Drag queens.
Glamourous… Charming… Slightly intimidating…
Having gone from queer oddity to mainstream marvel, the drag queen has never been more popular.
So it's the perfect time to celebrate the stories and anecdotes about drag queens captured in song.
Drag Queens in Limousines
Mary Gauthier
'I hated high school', starts the title track from Mary Gauthier's second album.
Didn't we all, Mary?
An autobiographical song about being a social outcast who finds her family with other misfits and outsiders, Mary is drawn to the grubby glamour of the drag queens in her life.
Stormtrooper in Drag
Paul Gardiner
The mash-up that no-one asked for – Star Wars and Drag Queens!
With a little help from former bandmate Gary Numan, who helped write the song and takes on lead vocals, this song invites you to 'look at me like a stormtrooper in drag, and I'll let you feel exactly like I do'.
Now, what do you think that means?
The Girl With A Little Bit Extra
Danny LaRue
In the legendary realm of drag queens who retain their boy names alongside RuPaul, Chad Michaels, and, well, um…. Derrick Barry (!), Danny LaRue was an Irish-English performer who was famous across theatre, television and film.
A good, old-fashioned bit of British wink-wink-nudge-nudge, this song revels in the joys of being a girl with an extra body part…
"Just be a slut, girl! Be the blonde slut you know you are!"
Pandora Boxx, giving advice to her younger self, on Lost Spaces Podcast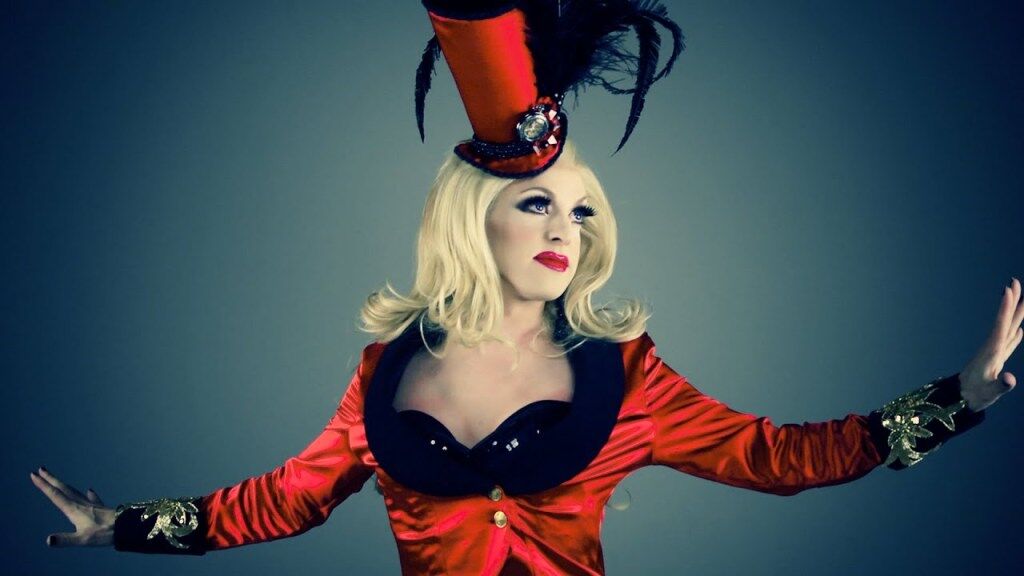 Listen & Subscribe for Free: Apple Podcasts | Spotify | Google Podcasts | Everywhere Else
Andrew In Drag
The Magnetic Fields
What happens when you fall in love with someone who doesn't actually exist?
"The only girl I'll ever love is Andrew in drag", croons Stephin Merritt, lead singer of The Magnetic Fields, voicing the unrequited feelings he has for his friend's drag alter ego.
DHDQ
Andy Bell
Debbie Harry is a queer icon. With her effortless style and snarlingly cool stage presence it's no wonder that many a drag queen has been inspired by her over the years.
Andy Bell, lead singer of Erasure, celebrates the DHDQ (that's Debbie Harry Drag Queen) on this track from his 2010 album 'Non-Stop'.
Bruce
Blossom Dearie
'You look like a hag, Bruce'.
My, my, Blossom is not holding back in this song. Usually a mild-mannered jazz singer, 'Bruce' is a dressing down of a friend in drag, who Blossom encourages to improve his fashion and shave his beard.
Nails
Alaska Thunderfuck
We can't compile a list like this and not include at least one Drag Race alumni.
And, who better than one of the art forms biggest fans, Alaska Thunderfuck?
This song confidently asserts that 'if you're not wearing nails you're not doing drag', and talks us through the basics of traditional glamour drag aesthetics.
Queen Bitch
David Bowie
The song in which Bowie claims 'I could do better than that' after describing Queen Bitch's 'frock coat and bipperty-bopperty hat'.
If only we'd gotten the chance to see him in full drag, with the long eyelashes and cinched waist.
"First things first – are you ready for the politics of drag?"
Mrs, Kasha Davis, reflecting on the advice she was given when she first started getting in to drag
Listen & Subscribe for Free: Apple Podcasts | Spotify | Google Podcasts | Everywhere Else
She Is A Man
Tages
There's a wonderful online urban legend about Swedish people. It goes, as homosexuality was still classified as a mental illness in that country in 1979, in protest those liberal Swedes called in to work sick, claiming they felt 'gay'.
Though it turns out not to be true, because it has an aura of credibility the legend spread like wildfire. I mean, where else on earth is more tolerant and open than that Scandi haven?
So it'll come as no surprise how non-plussed Swedish band Tages sound when singing about a drag queen in this tune from 1967. Even when we find out how great in bed her lover is the lead singer can't seem to muster an iota of excitement.
Drag King Bar
Bitch and Animal
It's not all about fake eyelashes, brow blocking and stacked wigs.
Drag Kings need to be honoured too!
And who better to lead the celebration than queercore duo Bitch and Animal, who, 'bored with the lesbian scene', find themselves at a Drag King Bar, where 'all the boys are really girls'.
Are these the best songs about drag queens?
What do you think?
Any glaring omissions?
Songs that should have made the list?
Get in touch and let me know!